On Safari with Alex Walker's Serian
Serengeti roughly translates to endless plain in the Maasai language, and it only takes one brush with Tanzania's famous expanse to understand how the national park earned its name. The Serengeti was once home to the Maasai, a pastoral, nomadic tribe that preserved wildlife and let the expanse flourish. The national park bounds were established in 1951 and has called to wilderness-seeking adventurers ever since. The tradition of safari has evolved over the decades, from the original months-long trophy hunting safaris to the mostly modern-day photo safaris that the majority of travelers seek. There are few things that breathe life into me quite like being on safari. When I spoke with some friends recently about places that we connect with – places that have an energy that sort of electrifies you – I mentioned East Africa. There are dozens of cities and regions in this world that I adore, but none that feel quite as restorative for me as being in Africa, and we've made it our mission to go at least every other year; more often when we can swing it. One of the ultimate safari experiences? Witnessing the Great MIgration in the Serengeti for one of nature's most spectacular displays.
An hour outside of the Lamai Airstrip in the northern part of the Serengeti sits Alex Walker's Serian Camp, one of four total camps as part of the Serian collection. One of the things that makes planning an African safari so intimidating is figuring out where to start and knowing which parks are the best at which times of the year. At 14,750 square kilometers, the Serengeti's vastness comes into play in a major way when choosing where to go. A friend of ours who joined us on safari is a Tanzania resident and helped us hugely by pointing us to camps and regions that would be best suited to a September/October trip. And when it comes to feeling truly a part of observing the Great Migration, our experience at the Lamai camp was hard to beat.
Serian's Lamai Camp
We pulled into the airstrip on a small plane from Kilimanjaro Airport, the first stop on a four-part safari journey through Tanzania. The beauty of Serian's lodges is that their focus is on genuine unadulterated safari experiences. Each group – family, couple, group of friends, or individual – gets its own driver/guide for the entire stay which is wildly special and not the standard even within ultra-posh glamping sites. A private vehicle also means that families will have the ability to experience a safari together since kids are allowed at the camp due to the flexibility and privacy that private vehicles provide.
…that's the heart of what I adore about being in Africa – escaping our day-to-day lives, allowing ourselves to disconnect from the distractions and reconnect with nature…
Serian celebrates East Africa in its truest form, focused on outstanding safaris that make you feel like you've been transported to a bygone time; an era that in some ways feels as though it's been otherwise abandoned in search of glitz and glam. And while some visitors understandably prefer their safari with a side of WiFi, a plunge pool, and glittering chandeliers overhead, Alex Walker's focus is an experience that stays true to the tradition of safaris as they once were. For me, that's the heart of what I adore about being in Africa – escaping our day-to-day lives, allowing ourselves to disconnect from the distractions, and reconnect with nature and with people on a different level. You're surrounded by nature in camps that are low-impact, with mobile tents that are inconceivably comfortable and perfectly appointed. The Lamai camp is now becoming a permanent fixture but for years this camp was mobile, moving from the Lamai Wedge in the northern Serengeti to Kusini in the southern part of the park during the seasonal changes. That meant that every tent and every piece of the camp's infrastructure was moved piece by piece, leaving nothing behind and no trace of temporary human settlement. Given that these camps were built and broken down seasonally year after year, you'd be amazed at how established the tents can feel inside: king-sized comfy beds, a desk for writing, working, or journaling, plus bathrooms equipped with all a flush toilet and a bucket shower. The main tent is the general hangout space for travelers with plush couches, locally-crafted decor, safari books, and a selection of games for entertainment. It's also where you'll dine for lunches and dinners in a communal style, which is a fun and organic way to get to know other travelers along the way.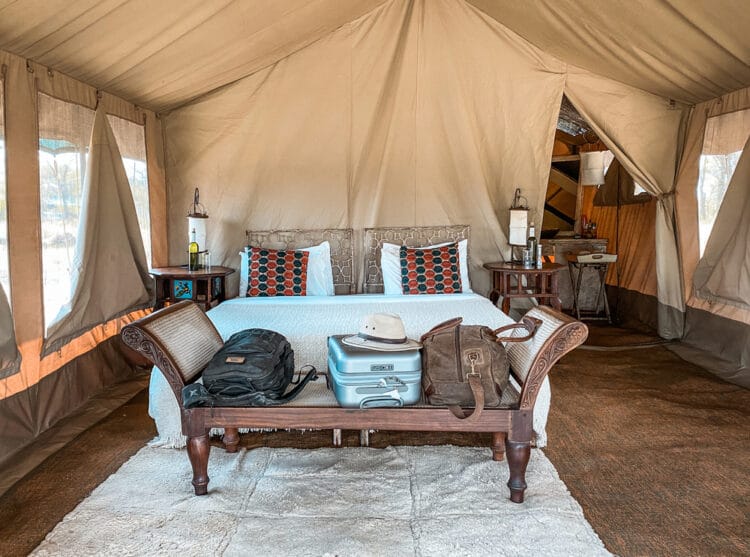 We pulled into the camp during September, one of the months famous for the Great Migration, when wildebeest move in droves, crossing the river in search of greener pastures. Sam, our dedicated driver/guide for the duration of our stay, was at the airstrip to collect us as we set off on a mini game drive en route to the camp. Serian's emphasis on celebrating the true spirit of safaris has meant that their focus is on handpicking the best of locations for their camps where crowds are thin, wildlife is rich, and their award-winning guides help make you feel like you've truly arrived. For us, that meant a camp just 600 meters from the Mara River, where we could quite literally hear the crossings when they began, wildebeest stampeding less than a kilometer away. With our own car and driver, we could mobilize in an instant to be at the heart of the activity within minutes, and we'd return to camp where a few wildebeest, zebra, and impalas were casually crazing just outside of our tents.
The Schedule
So, what's your schedule likely going to look like on safari? Alright, let's start with one of my favorite secret treats about thoughtful safari camps: the wake-up call. Yes, you'll want to wake up early to set out on your morning game drives as the wildlife can be the most abundant in the early morning hours. The icing is that you'll also be treated to incredible African sunrises that make the morning wakeup even more worth it. But wake-up calls on safari don't involve that morning squeal from your iPhone that feels a bit painful. Instead, you'll have someone at your tent saying hello and waking you up with a hot cup of coffee or tea to get your day started. Pretty sure mornings for the rest of my life feel sub-par after this (still scheming on how to get my husband to do this for me on the regular). They also bring some hot, clean water to your bathroom so you can wash your face and brush your teeth before you head out for the day.
Having our own guide and car for our stay meant that our experience was ultra-customizable in terms of timing for game drives, breakfast experiences, etc. We opted for two game drives per day: one at 6AM (usually about 5 – 6 hours), and an afternoon drive from about 4:30PM – 7PM. The 6AM game drive meant that we'd have our morning wake-up call at 5:30AM, which again, was a thousand times more bearable because it was so personal.
Our mornings were generally super rich in wildlife with major sightings like cheetahs, lions on the hunt, incredible scenes of hyenas, vultures, and jackals scavenging after a lion's kill, and a rhino, which was incredible to see first hand given it's only been spotted twice this year. Mid-morning, we typically stopped and had a bush breakfast prepared in advance by the Serian team. And really, when you've had breakfast in the wild surrounded by hundreds of wildebeest, elephants, and giraffes, breakfasts are never really quite the same again.
During our evening game drives, our focus was more on taking in the beauty of the wild with a side of sunset and a cold G&T for good measure. Guests get to chat with the Serian team to share their preferences on favorite drinks and preferred sundowners so if G&Ts aren't your thing (?!!), you can always enjoy a glass of vino, beer, or soft drinks instead. That's not to say that you won't see wildlife in the evenings – we spotted plenty of animals while we were out and about – but in general, we found that the world felt more active in the early morning.
The Migration – What to Expect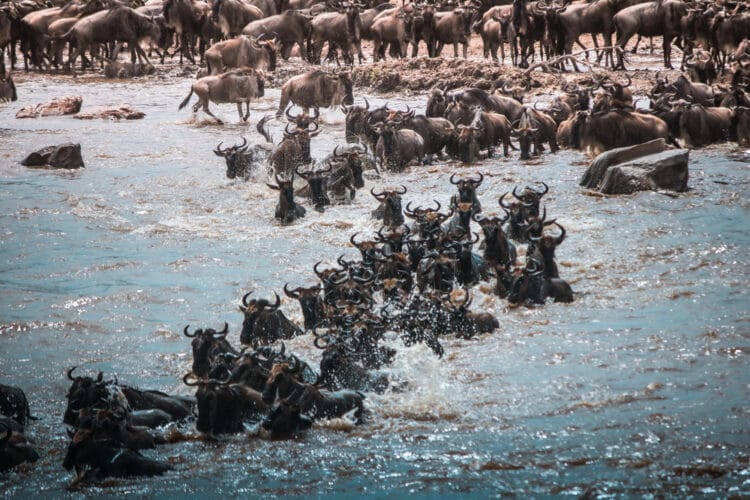 If you're considering visiting with the Great Migration as your focus during the July through October period, I genuinely think that Serian's location is tough to beat. The camp is situated about 600 meters from Crossing Point 4, right in the middle of the Mara River, so you're this close to the action when wildebeest are crossing in droves. If a crossing starts, the guides will get word very quickly and you can mobilize within minutes to be there for the action. Location is super important in this respect — there's no pause button so a 5-minute drive vs. a 30-minute drive can make all the difference between seeing a huge crossing or missing it.
The migration is an ongoing phenomenon that sees upwards of 2 million wildebeest travel in search of food. It really begins in February/March in the southern Serengeti during calving season when thousands of baby wildebeest are born each day (that's also worth putting on your itinerary if that time of year works into your schedule better). From there, there's a gradual migration up north as they search for greener landscapes. The northern Serengeti river crossing period – during the time frame we were there – is generally considered the most spectacular time to see the migration since you'll have the drama of the wildebeest crossing the water. And no doubt, it is an incredible display but nature obviously has no guarantees so you have to go in with tempered expectations. But honestly, even if we hadn't gotten the awe of the river crossings, the rest of the game was so good that we would have still left beyond satisfied.
Out of five nights on safari, we saw 3 or 4 river crossings including one major crossing with thousands of wildebeest making their way across the river. We experienced rains in the evenings which ended up playing to our advantage. The wildebeest generally follow the rains (rain = food) so a bit of a sprinkle in our case made for great game viewing. And yes, be prepared to see the crocs in action as well during the crossings!
While the migration played a factor in our decision to visit the Serengeti, there was so much beyond the wildebeest movement that wowed us. And it's worth remembering that beyond the game drives, camp life itself is such a draw for an incredible off-the-grid disconnected experience. Don't we all deserve to free our minds from the constant connectivity for a bit? Stay tuned – I'll be sharing a whole photo journey in a separate post that'll highlight wildlife beyond the ever-present wildebeest when visiting the Serengeti during the Great Migration. I'll also be sharing three other camps on our safari circuit and 10 tips for planning an African safari. In the meantime, the video above helps with a glimpse into our five nights in the Serengeti. A huge thanks to the entire Serian team at the Lamai camp who made our escape an absolute dream. ✨
Have you witnessed the Great Migration in the Serengeti or been on safari in Tanzania? Feel free to drop a line below if this is on your bucket list, too!