When a couple at the hotel suggested a beach-hopping tour for Saturday, the idea sounded pretty idyllic. We rounded up three other couples at the hotel that were interested in a mini beach tour of the island's west end and headed out to sea.
Our first stop?
We had two stops practically etched in stone for the day but were trying to figure out where to kick start the day of activities. Scott suggested hitting up Sandy Island before embarking on the afternoon's activities, so we did just that. The water was rougher than the previous day, splashing away as we cut across the sea to the teensy tiny 25 x 150 yard island. We had planned on snorkeling, but the slightly rougher seas had stirred up the water a bit, making a bit less enticing.
After our quick stint at Sandy Island, we hopped back on the boat and made our way around the western point of the island passing by Barnes Bay, Shoal Bay West, Maundays Bay and Anguillita. We had two stops in mind for the afternoon: Cove Bay and Rendezvous Bay. We decided to head to Rendezvous first to get some sunshine and have lunch at the Sunshine Shack (the owner bar tended our wedding so we're fans!).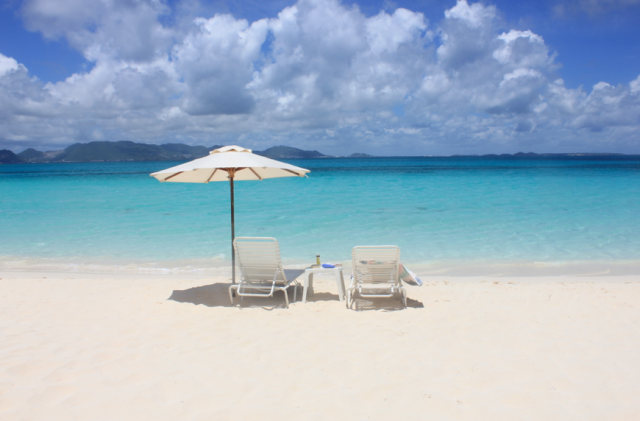 As per usual, the lunch was delicious, the ambiance was spot on and the beach was stunning. People assume that we go to the beach every weekend (not accurate) and that living here, we probably get used to these beaches and sunsets. I can honestly say that there is no getting used to the beaches or the sunsets here — I'm constantly amazed by how blue the water is, how white the sand is, and how vibrant the sunsets are.
Here's a photo I snapped at the Sunshine Shack a while back:
After our time at Rendezvous Bay, we headed over to Smokey's at Cove Bay to listen to the Musical Brothers before heading back to Meads Bay. We only have one week left in the season so we're wrapping things up and gearing up for the off-season in Anguilla. During September and October, the island shuts down. Hotels close their doors (bar one or two), and the majority of restaurants even stop serving food. If we thought options were slim before, this should be quite the experience!
xoxo from Anguilla,