I always find it important to take some time to reflect at the end of the year. Each day — and each event — comes and goes so quickly that there's hardly enough time to take each moment in and truly savor it. This year in particular was a big one; arguably the biggest yet. As I've done in years past, I'm sharing my top 10 moments of 2013. I'm trying not to focus on travel here since I'm saving those for another post on this year's international adventures. That post is forthcoming to close out the year!
Day trip to St. Barths
10The most recent event on this list, our surprise Christmas getaway to St. Barths was an incredibly special day, and not just for the travel aspect. We'd visited St. Barths before but having Scott's family in town, exploring the island and spending the day together at Nikki Beach was one for the books. An inexplicably perfect family day.
Our friends' weddings.
9 Above all else, 2013 was the year of the wedding. We weren't able to be present at all of our friends' weddings (there were somewhere between 12 and 15 this year), but it was a year of pure happiness seeing so many wonderful people get hitched. We were able to attend a few events and the locales and moments were incredible. We headed to Sea Island in May for a gorgeous Southern occasion and toasted to great friends as they got hitched in Napa and San Diego in September. Lots of newly minted Mr. and Mrs. to share in a special year!
Weddings showers + bachelorette party.
8Both of our wedding showers in California were spectacular. Being able to come home for a couple of weeks surrounded by family and friends is hard to beat. For our Mexican-inspired event, having both families unite and having both of our grandparents in the same room was a pretty wonderful thing to experience. My bachelorette party in Santa Barbara (which was the polar opposite of Scott's version on a Mexican cruise) brought together some of my favorite people on one awesome weekend trip. Too much fun.
New friends — an island family.
7Scott and I have been fortunate since our move to Anguilla. We have found some incredible people on the island and have already built strong, lasting friendships. I'm so grateful for all of the people that have made our life in Anguilla feel like a true home. To everyone who invited us out, brought us into their circles and made us feel like real island dwellers, thank you. 
New job descriptions + opportunities.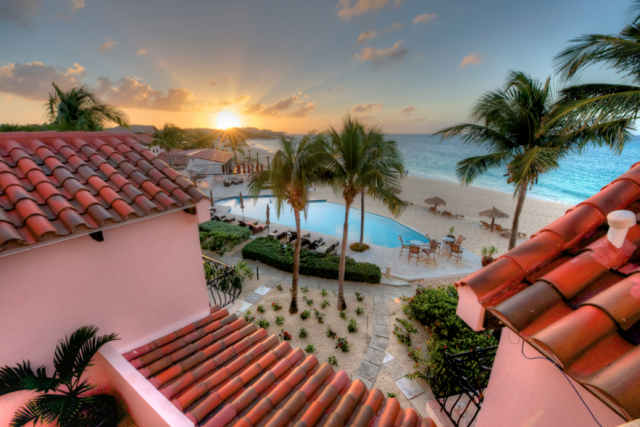 62013 brought a lot of changes with a move into the hospitality industry being one of them. With a big international move earlier in the year (more about that in a moment), being a part of a great resort and meeting new people made the transition easier. Plus, working within a smaller organization has allowed me to delve deeper, learn more and try new things that I wouldn't otherwise be able to.
Another major addition to life? Joining the board at Anguilla's Omololu International School. A good friend here got me involved with the organization and the experience has been amazingly educational. Plus, it allows me to keep my social policy and international development roots alive.
An international move + cohabitation.
5When I initially started drawing up this list, I didn't even have the move to Anguilla on here. How could I forget to add this one to the list?! It's been nearly a year since we said goodbye to our homes in San Francisco and boarded a plane to begin our new lives in the British West Indies. Scott and I were living separately at the time (though very close to one another), had separate bank accounts and weren't yet married. Moving to Anguilla meant moving internationally, moving in together, starting new jobs (at the same place), and joining bank accounts. We really ripped off the band-aid and went for it. Fortunately, it's worked out well!

Exploring Peru.
4I didn't want to make this list focused on travel since I'll be doing that in a separate post, but Peru was a different experience. It wasn't just travel, it was our honeymoon. When people ask where we went as newlyweds, they're always surprised to hear that we ventured to South America for a jungle cruise and a week of exploring Southern Peru. It's an incredible destination, but it's certainly not typical for a honeymoon locale. As we've said to many that have asked, it wasn't necessarily romantic and it certainly wasn't inherently sexy (cue altitude sickness and adverse reaction to Maleron tablets) but it was i n c r e d i b l e. For us, it was perfect and it was a supremely memorable experience. Plus, seeing Machu Picchu was on my list of travel musts!
Adopting Atlas.
3Oh, little Atlas. He was such a little ball of fluff when we first adopted him from the Anguilla Animal Rescue Foundation and he's grown just so, so quickly in the last few months. Neither Scott or I had been dog owners in our adult life prior to Atlas so it's been a huge learning experience for both of us. Challenging at times but a great addition to the Kircher clan. Plus, he has his own Tumblr.
Having family & friends in Anguilla.
2So, I'm going to be totally honest here. Having family and friends in Anguilla for our wedding was out-of-this-world incredible. Having so many people that you love in one little place produces an experience that's impossible to replicate. But the most wonderful part of this? Having my 88-year-old grandmother in Anguilla for 5 weeks this summer. I love all of my friends and every single family member and am so grateful to each and every person for being here, but having my sweet, sweet grandmother in Anguilla was a wonderful blessing. To have an 88-year-old grandmother in general makes me fortunate, but to have spent nights with her at the Pumphouse, days exploring the island's beaches, and to see her so vibrant and able-bodied was this truly irreplaceable experience. She's headed back to Anguilla in February and I can't wait to spend more quality time with her and with my parents!
Tying the knot.
1So, I've now recounted an international move, moving in with a fiancé, starting a new job and taking on new responsibilities, getting a new puppy and finally — the most memorable and powerful moment in 2013 — getting married. Our wedding ceremony and reception will forever stand out as being one of the most incredible days in my life. Everyone told me in advance how quickly the day goes by and how it feels like an out-of-body experience that you only fully appreciate after the fact. Perhaps it was because of that advice and taking it to heart that I truly cherished each moment during our wedding ceremony and reception. I remember the feeling of that day, the happiness, the hurt in my cheeks from smiling so hard. I remember hugging my dad before walking down the aisle, hearing 'Sweet Child of Mine' to cue my entrance, and the hugs all around after we exited the church as Mr. & Mrs. I remember how I felt during my dad's speech, so confident and so touching. I remember seeing my mom dancing on the beach, my grandmother dancing with Scott's fraternity brother (best photo ever) and hoards of people attempting to release wish lanterns into the sky. I do remember the day and what an incredible day it was… so much happiness, love and positivity that surrounded us, and so many wonderful friends and family members there to toast to our success.
---
Yes, 2013 was certainly my biggest year. No doubt about it. 
Cheers to the wonderful year that has passed and to another beautiful year ahead.