Can't Miss Vino Nobiles During Your Tuscan Tour
When we embarked on our journey to find our perfect enclave for a wine-drive luxury boutique hotel in Tuscany, Montepulciano kept coming up tops for us for a reason. Chianti most certainly is more famous in the minds of many Americans, and Montalcino has its famous robust Brunellos that wow wine aficionados but Montepulciano has its Vino Nobile, which I see as a perfect balance between the two, balancing the elegance of Chianti Classico with the structure of Brunello. Add to the fact that Montepulciano is the oldest DOCG in Italy and the region still remains beautifully true to its heritage. There are dozens and dozens of amazing vineyards producing wonderful wines at great values; some are larger producers that you may see in your local wine shop but many are small local producers that are family-owned and operated, as they have been for generations, putting tons of heart and soul into every harvest and every bottle.
Sangiovese is Tuscany's most predominant grape and per the DOCG guidelines, Vino Nobile must be at least 70% Sangiovese though many producers go well beyond that, with some using exclusively Sangiovese for their production. You'll find Canaiolo, Mammolo, and Colorino are the most commonly used indigenous varieties in blending, though some international varietals are used as well. The majority of wineries produce a Vino Nobile in line with the DOCG requirements, but you'll find some offering whites and rosés, others specializing in unique Supertuscans, and yet others that offer some unique single varietal options that are rare to find. Below, in no particular order, I'm sharing 10 wineries to visit in Montepulciano when wine tasting in Tuscany, plus what makes each worth visiting.
Boscarelli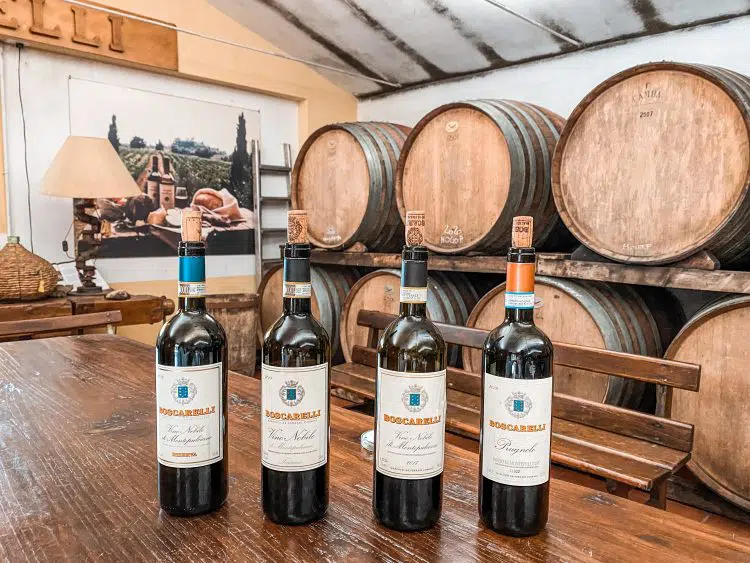 1Located adjacent to Borgo San Vincenzo, Poderi Boscarelli's vineyards feature prominently in our aerial shots and it's a winery that consistently ranks amongst the top wineries to visit in Montepulciano for visitors to the region. Dating back to the 1960s, Boscarelli focuses primarily on their Vino Nobile, which makes up about 80% of their production. Their tasting room is modest and rustic, which I think adds to the charm of it all. Nothing here feels like it's done for show; it's a true, functioning wine farm. If timed right, you can see harvest underway and grapes being destemmed and sorted while you walk through before a tasting. Their Vino Nobile is the standout here, but for anyone wanting to mix it up from Sangiovese, they also offer a Merlot produced from vineyards in Cortona.
Read more about Poderi Boscarelli. ✪
De' Ricci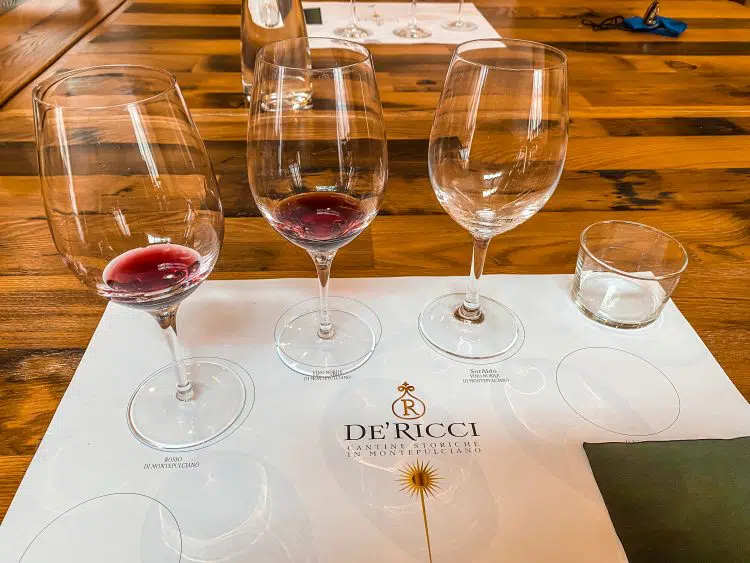 2De' Ricci is located in the medieval town of Montepulciano and benefits from having one of the coolest wine caves around. De' Ricci offers scheduled tours during the day (including English language) which makes visiting and tasting very accessible. During the tour, you'll visit the Etruscan cave and Wine Cathedral, which provides a serious sense of place. When you're done, you can marvel over the views of Montepulciano from the viewpoint — truly a stunner! You'll have a choice of tastings, which can include a more comprehensive option that serves up their exclusive Soraldo — and don't miss a taste of their housemade olive oil while you're at it.
Read more on De' Ricci here. 
La Combarbia
3La Combarbia had my heart at our first encounter. A small relatively young winery, the facility is helmed by a local winemaker named Gabriele who's virtually a one-man show. He handles everything from overseeing harvest to producing wines, labeling, export, etc. The tasting room is beautifully done; small but perfectly appointed so you can taste a range of reds and a white that he produces. Even the Rosso di Montepulciano, which is the simplest wine generally produced, is still great – one that I take a few bottles of for an easy-to-drink weekday night wine.
Read more on La Combarbia here.
La Braccesca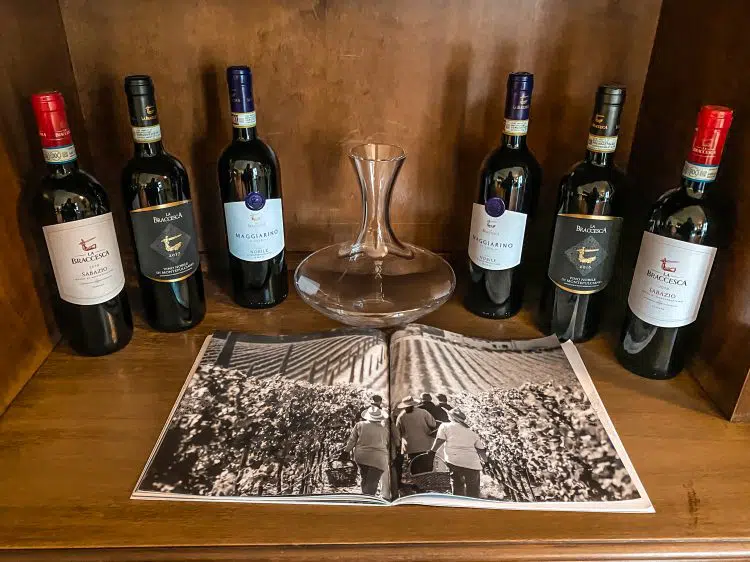 4Part of the Antinori's estates, La Braccesca sits at the crossroads of Cortona and Montepulciano, giving it a unique profile to make its wines. Unlike Montepulciano, who's mainstay is Sangiovese, Cortona is famous for its Syrah — La Braccesca produces both. Their famous Maggiarino wine is a flagship Vino Nobile (and is produced adjacent to Borgo San Vincenzo as well!) but a visit to their hospitality center gives you a chance to see the range of their production and taste some profiles that you won't find with traditional producers focusing on Sangiovese. La Braccesca's tasting room is one of the more established, too, with a gorgeous bar, comfortable places to sit and taste, and options for great outdoor seating in the summer months.
Read more about La Braccesca. ✪
Dei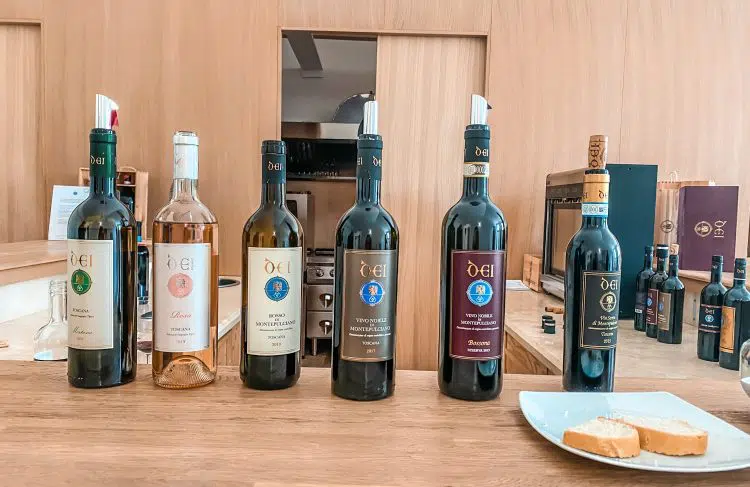 5Led by Caterina Dei, Cantine Dei focuses on sustainable winemaking with a great range of wines that includes a white and rosé.  The Dei family was historically involved in excavating and processing travertine for generations and it's something that's apparent when you visit their impressive travertine cellar. A local singer, Caterina is also a woman of the arts and the artistic edge is highlighted with a sculpture garden outdoors. If you're looking to mix it up from traditional reds associated with Tuscany, Dei's whites and rosé are a great way to beat the summer heat! That said, you may not get a taste of it, but don't miss Madonna delle Querce, Dei's premium red label that is one of the region's finest.
Read more about Cantine Dei here. ✪
Bindella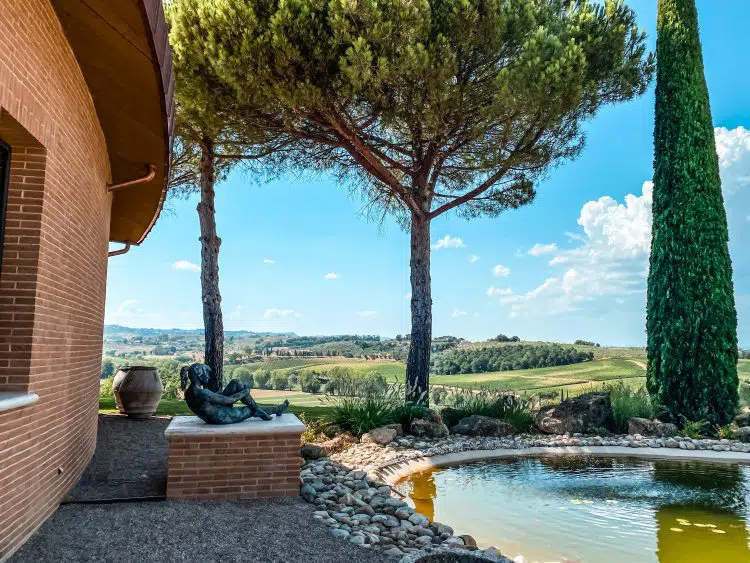 6Another art-driven hotel, Bindella melds art and wine in their impressive tasting room. It's one of the few wineries that offers a full restaurant – an impressive one at that – making it a good place for a lunch with pairings as well. I've talked about how the Douro Valley is arguably the world's most beautiful wine region but let's be real: Tuscany gives it a run for its money with neverending vineyards and undulating hills for days. The outdoors offer up incredible views of the vineyards below and the inside offers contemporary art, largely done by a Berlin-based artist who's visited the estate for over a decade.
Read more about Bindella.
Montemercurio
7Possibly my #1 bottle of wine ordered when I'm out to dinner is Montemercurio's Messagero, their signature Nobile. It's a solidly good wine that never fails to impress and was reason enough for us to want to go to their tasting room for a flight (€25pp) after realizing it was one of the few major wineries in Montepulciano we'd failed to visit. Wineries each typically have their premium wine that's made during select years; something special that you rarely get to taste not necessarily due to price but due to the fact that few bottles are ever made. Dei has Madonna delle Querce, Avignonesi has 50/50. Here, Montemercurio has Damo, their premium offering that's produced during exceptional vintages. And yes, it's part of the tasting so go! 
Read more about Montemercurio here.
Avignonesi
8Avignonesi sits positioned on the cusp of Cortona and Montepulciano, a gorgeous estate with a focus on biodynamic viticulture that lends itself perfectly to guided tours. Avignonesi's wine is top class and their tasting room and experiences on offer excel. They have standard options like a tour with tasting (available in English as well, which you can pre-book), but also offer cooking classes, 'The Cellar Door' Experience, and the 'Grand Experience'. Avignonesi's 50/50 is a must-try (it's done in partnership with a winery in Chianti), and their sweet wines, a Vin Santo and their Occhio di Pernice, are super local specialties that are must-tries. Retailing at €100s for the miniature bottles, after learning the process of making Vin Santo, you'll be impressed you can even get your hands on it at all.
Read more about Avignonesi here. ✪
Salcheto
9Salcheto is really the leader in sustainability when it comes to wineries — not just in Montepulciano, but in Italy, and arguably within Europe broadly. A glance at their setup and you'll quickly notice that they're leveraging the elements for winemaking and for their facilities. The winery has an "off-grid" cellar which is considered a model of environmental efficiency and technological innovation on the continent. Their Salco wine is one of my faves, but for lovers of natural wines try their Obvius line, which brings that yeasty funk (in a good way) that you'll find in orange wines. Salcheto offers lunch as well — another great option for a bit during your day of tasting!
Read more about Salcheto here. ✪
Poliziano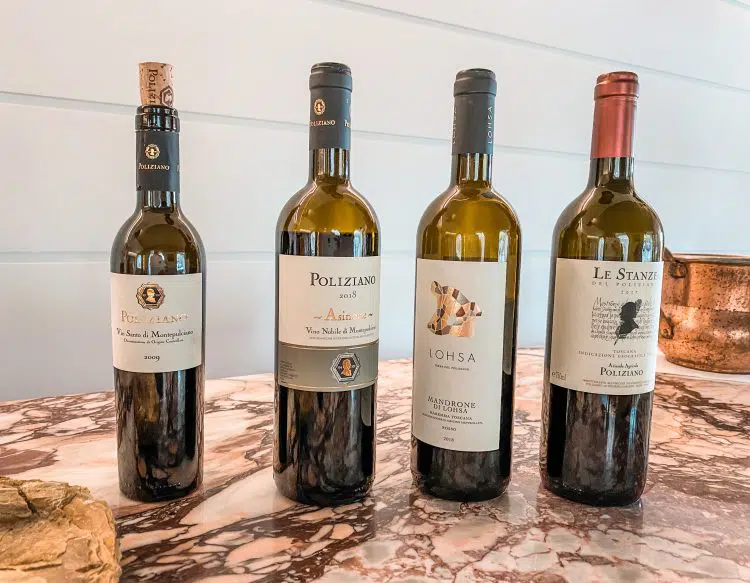 10When it comes to wineries to visit in Montepulciano, Poliziano is one you may know from home; a wine that does make its way occasionally into the export market and has earned its place amongst the faves in the region with great wines and a great hospitality product. They offer a range of beautiful options produced in Montepulciano including their beloved Asinone but also produce a Supertuscan in Maremma that brings its own flair.
Read more about Poliziano here. ✪ 
---
✪ The six wineries starred here make up the Alliance Vinum. "Six pure Sangiovese wines, each the product of a single vineyard and the culmination of the utmost viticultural and emotional commitment on the part of six outstanding wineries. While being naturally different, their story brings them together: they are an example of the best things that the Tuscan Montepulciano can give. Above all, they strive to become continuous inspiration, direction and motivation. Always evolving and never just a destination."
---
Wine lovers, which wineries are your favorite in Montepulciano? I know this list doesn't scratch the surface so share any other small producers you love!